Truth or Myth:
The Legend of Miss Ann and Captain Hawkins
Oak Hill, Fairfax County, Virginia

by Debbie Robison
December 18, 2014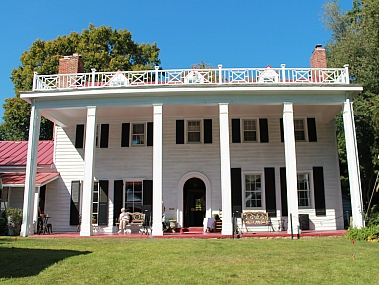 A legend is told in the communities surrounding Oak Hill about Miss Ann Fitzhugh who died protecting her English love, Captain Charles Hawkins. Oak Hill, commonly called "Miss Ann's Mansion," is located near Annandale, VA. The story was documented by Mrs. Edward F. Howrey and published in the Historical Society of Fairfax Yearbook in 1961.<![if !supportFootnotes]>[1]<![endif]> The Howreys owned Oak Hill from 1935 to 1968.<![if !supportFootnotes]>[2]<![endif]>

Names of the nearby streets of Miss Anne Lane and Captain Hawkins Court were derived from the legend. The legend dates back to at least 1941 when the Fairfax Garden Club sponsored tours of Oak Hill. Visitors were told of the "tragic ghost 'Miss Annie' Fitzhugh." <![if !supportFootnotes]>[3]<![endif]>
Oak Hill
THE LEGEND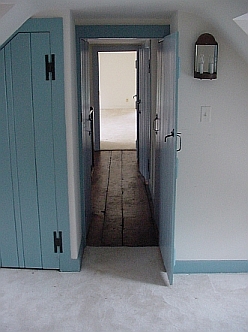 The tale goes like this.

Mr. Fitzhugh went back to England on business and took his daughter Ann. While there, Ann fell in love with Captain Charles Hawkins. Mr. Fitzhugh and Ann returned to the "Colonies" when the trouble began. Charlie was sent to America to put down the rebellion. He landed at Dumfries and visited Ann several times at Oak Hill.

Federal troops got wind of his visits and surrounded the house. Ann hid Charlie in a secret room over the dining room reached by a trap door. Upon leaving, one soldier poked a sabre or bayonet through the trap killing Ann. Charlie jumped through a fan light in the attic and escaped. Ann haunts Oak Hill with plaintive cries for "Charlie."
Oak Hill Attic, now a finished living space
So is there any truth to the legend?
Myth: The legend states that Ann Fitzhugh and Captain Charles Hawkins met when the area was part of the British colonies. Therefore, according to the legend, they would have met prior the signing of the Declaration of Independence in 1776.
Truth: Miss Ann Fitzhugh did live at Oak Hill. She was the daughter of Richard Fitzhugh, who built Oak Hill. However, Ann was born ca. 1805, which was 29 years after the signing of the Declaration of Independence and 16 years after adoption of the United States Constitution.<![if !supportFootnotes]>[4]<![endif]>
Myth: Englishman Captain Charles Hawkins was sent to America to put down a rebellion. Ann hid him at Oak Hill.
Truth:Oak Hill was constructed ca. 1793 after Ann's father, Richard Fitzhugh, inherited the property from his father. A plat of the property prepared for the land division in December 1792, indicates a number of dwellings; however, Oak Hill is not one of them, thus suggesting that the house wasn't constructed yet.<![if !supportFootnotes]>[5]<![endif]> Richard Fitzhugh moved to Fairfax County in 1793.<![if !supportFootnotes]>[6]<![endif]> Ann could not have hidden Hawkins at Oak Hill during the Revolutionary war since the house didn't exist at that time. If the rebellion referred to in the legend was the War of 1812, which resulted in British soldiers in the region in 1814, then Ann would have been only 9 years old.
Myth: Captain Charles Hawkins was Miss Ann's lover.
Truth: It is unknown if there was a British Captain Charles Hawkins; however, the Alexandria Gazette mentions a Captain Charles Hawkins in 1842. He was an officer of the Alexandria Sharp-Shooters.<![if !supportFootnotes]>[7]<![endif]> There isn't any evidence found to date to show that Captain Charles Hawkins of Alexandria knew Miss Ann Fitzhugh.
Myth: Miss Ann was killed by a soldier using a sabre or bayonet.
Truth: Miss Ann didn't die, she got married. Ann Fitzhugh married Charles R. Battaile, Esq. of Caroline county at Oak Hill on July 29, 1823.<![if !supportFootnotes]>[8]<![endif]> They lived in Culpeper, Virginia.<![if !supportFootnotes]>[9]<![endif]>
<![if !supportEndnotes]>

---
<![endif]>