Devereux Siding:
A Civil War Wood Station
on the Orange and Alexandria Railroad
by Debbie Robison
July 9, 2012
During the Civil War, the United States Military Railroad Construction Corps built a railroad siding on the Orange and Alexandria Railroad at the present-day location of Clifton, Virginia to supply the Union army with timber for railroad ties, bridge trusses, and firewood. [1] The siding was named after John Henry Devereux who in 1862 and 1863 was superintendent of the military railroads that terminated at Alexandria, Virginia.[2] The federal army cut down thousands of acres of woodland in Fairfax County along the Orange and Alexandria Railroad and the Alexandria, Loudoun and Hampshire Railroad and shipped the wood by train to Alexandria.[3] Other prominent wood stations included Fairfax Station, Burke's Station, Wood Station (located east of Burke's), Frank's Siding (one mile west of Springfield Station), and Edsall's Station.
The land on both sides of the railroad at Devereux Siding was owned by William E. Beckwith.[4] Over 500 acres of his forested land was cleared of oak, hickory, and pine trees.[5] Army lumbermen, known as wood choppers, began removing trees in 1862 once the Union had permanent control of the area.[6]
In 1863 a "Y" was constructed at Devereux Siding by the U.S. Military Railroad to enable trains to turn around and head in the opposite direction back to Alexandria. The "Y" was necessary after the Union abandoned the Orange and Alexandria Railroad south of Bull Run while General George Meade and the Army of the Potomac were in Pennsylvania fighting at Gettysburg. On March 24, 1863, John H. Devereux sent a letter to Adna Anderson, chief engineer of the military railroads of Virginia in 1863, urging the immediate construction of a "Y" at either Fairfax Station or Devereux Siding. A siding at Devereux was considered more favorable than at Fairfax Station due to the surrounding topography.[7] The siding was constructed by both white and African-American laborers employed by the U.S. Military Railroad Construction Corp.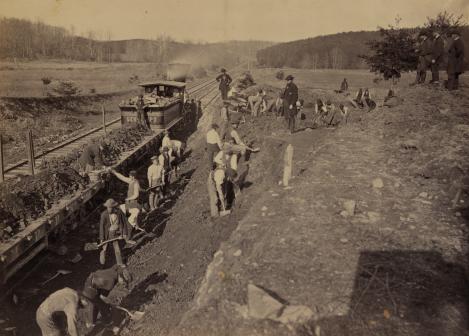 Construction of "Y" at Devereux Siding. Photographer Andrew J. Russell, Courtesy Library of Congress
Although the railroad was initially abandoned south of Bull Run in April 1863, by June 15, 1863 the entire Orange and Alexandria Railroad was evacuated outside the defenses of Washington. This situation remained in effect until the return of General Meade's army to Washington in July after their successful Gettysburg Campaign.[8]
During the war, Confederate raiders and local citizens who supported the Confederacy periodically attacked wood stations, damaged rails, and destroyed railroad bridges in order to disrupt Union supply lines. On July 30, 1863, John Devereux reported that frogs (devices at the junction of the main line with the siding that allowed the wheels to change tracks) were broken at Devereux Siding and Nokesville.[9] This report of damage coincided with a proclamation issued by Meade on the same day as follows:
The numerous depredations committed by citizens or rebel soldiers in disguise, harbored or concealed by citizens along the Orange and Alexandria railroad, and within our lines, call for prompt and exemplary punishment. Under the instruction of the Government, therefore, every citizen against whom there is sufficient evidence of his having engaged in these practices, will be arrested and confined for punishment or sent beyond the lines. The people within ten miles of the railroad are notified that they will be held responsible in their persons and property, for any injury done to the trains, road, depot, or stations, by citizens, guerrillas, or persons in disguise; and in case of such injury, they will be impressed as laborers, to repair all damages. If these measures should not stop such depredations, it will become the unpleasant duty of the undersigned, in the execution of his instructions, to direct that the entire inhabitants of the district or country along the railroad be put across the lines, and their property taken for Government purposes.
- Geo. G. Meade, Major General Commanding.[10]
In early August 1863, wood cutting and hauling resumed at Devereux Siding. The U.S.M.R.R. sent Flemming's men to Devereux to cut wood and Martin with his oxen to haul wagon-loads of wood to the trains.[11] Then in November, a requisition was made on Captain Ferguson for 25 teams (probably oxen or mules) to haul wood and ties at Devereux.[12]
Many of the wood choppers who worked along the Orange and Alexandria Railroad were former slaves known as "contrabands" who had escaped to Alexandria.[13] They risked capture by working outside protected Union lines.[14] On November 25, 1863, wood choppers were at work about one-quarter mile southeast of Devereux Siding when they were attacked by Kincheloe's Rangers. Twenty-three teamsters and wood choppers and 50 mules were captured.
No guard was with the workmen, but the picket on the railroad would have heard any shots, had they been fired on. George Mattock, who has charge of receiving wood at Devereux Station, says he applied to Mr. Hayes, wood agent, for a guard, but none was furnished...- MICHAEL CORCORAN, Brigadier-General, Commanding. [15]
The fate of the teamsters and wood choppers, many of whom would have been escaped slaves working for the U.S.M.R.R., is unknown. For five months following the raid, the Union army stationed New York infantry regiments at Devereux Station to safeguard workers.[16]
The U. S. Military Railroad constructed structures at Devereux Siding in support of their operations there. In December 1863 carpenters constructed a dining room and also a stable for the oxen.[17]
In April 1864 the New York Infantry troops at Devereux were withdrawn.[18] Passenger and freight station departure times were published that month by the U.S.M.R.R. and Devereux was listed as one of many station stops.[19] In May 1864, the wood choppers and teamsters were called back to Alexandria thus ending the military operations at Devereux.[20] In 1865, Devereux Station was no longer listed among the freight stations on the Orange and Alexandria Railroad.[21]
---